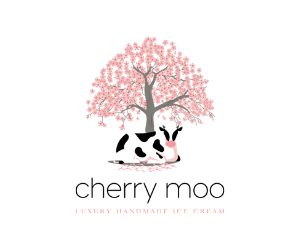 Ice cream
After leaving a professional career as a midwife for 17 years, I set up Cherry Moo in May 2020. For many years I would happily eat my way through Soho's finest gelato and ice cream parlours, but I was frustratingly underwhelmed with the offerings back home. I knew I could offer something special.
After a year of experimenting, I finally achieved THE "signature base". It's rich, decadent and smooth. I have a strong ethos of pairing both quality with simplicity. Nothing artificial; just cream, milk and sugar. Almost every inclusion is handmade, using the best local fruit, finest Belgium chocolate and vanilla.
I have developed over 22 delicious ice cream flavours; the most popular products being Honeycomb and Peanut Brittle. Both have won a 2-star Great Taste Award.
My unique selling point is that the ice cream is made by hand! Whisked with whisks and potted with ladles. Not an ice cream machine in sight.
You can find Cherry Moo at two local stockists: Over farm Market and The Orchard Deli, though most of my custom comes from a "click & collect" service, offered from my domestic premises in Kingsway.
My customers love Cherry Moo because it offers something completely unique. A real different style of ice cream that's a s natural as possible.
Find us at: 30 Fauld Drive, Quedgeley, Gloucester, GL2 2HL