Makers' Spotlight – Non Solo Pasta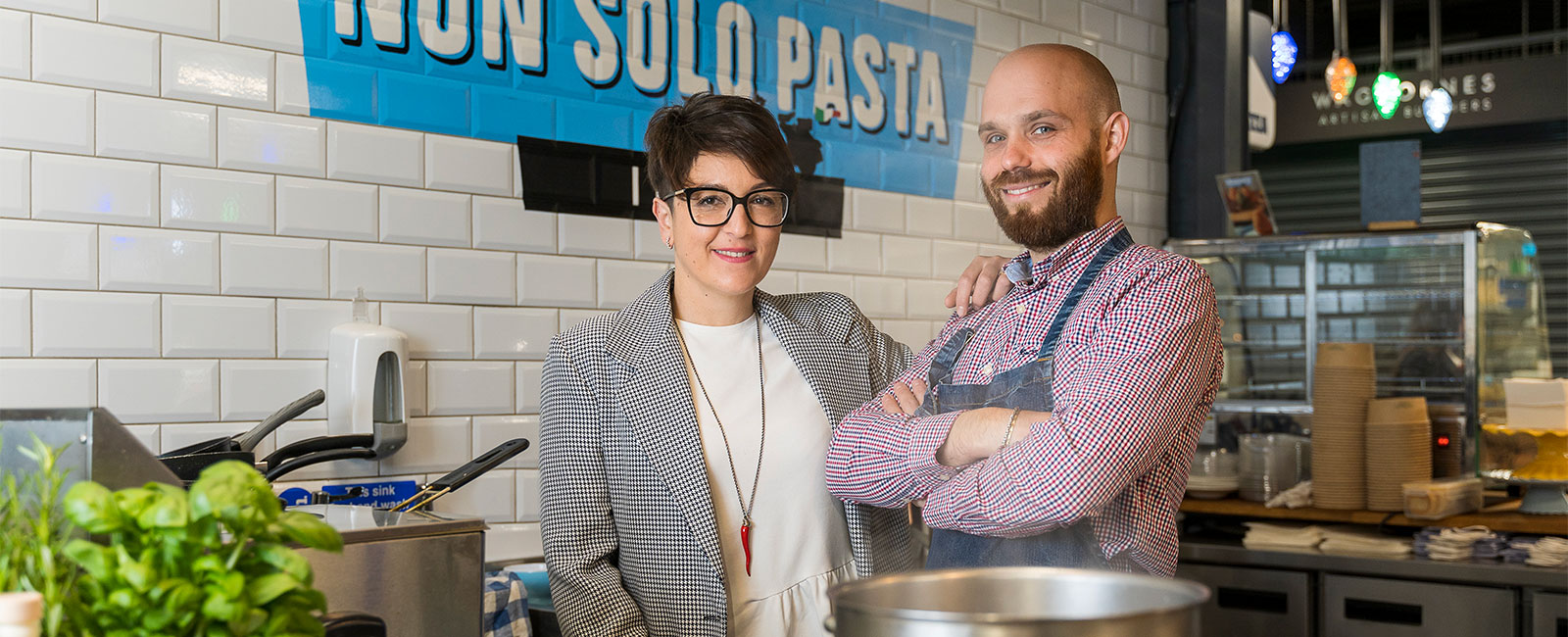 7 June 2022
Makers Spotlight
Non Solo Pasta began in 2018, as husband and wife team Matteo and Clara started making authentic, traditional Italian street food for the Cirencester Farmers' Market. After finding that the people of Cirencester had a real hunger for their delicious arancini, they've gone from strength to strength and are preparing to open a new restaurant.

We chatted to Clara about what's next for Non Solo Pasta and how they're bringing a true taste of Italy to the rolling hills and valleys of Gloucestershire.
Tell us about Non Solo Pasta – how did you get started?
We started at the Cirencester Farmers' Market in 2018 and expanded very quickly. We were part of a competition called Food Glorious Food, run by the Mid-counties Co-Op, and we were one of the 10 finalists – now, our arancini, which is a risotto ball, is in 36 shops across the county.
In 2020, we opened our first shop in the Five Valleys shopping centre in Stroud, where we offer several pasta dishes as well as our arancini – the kind we'd make back home in Italy. The following year, we expanded our shop, adding a seating area and a deli section where we sell our own limoncello, homemade pasta sauce and some of our favourite products straight from Italy. We keep doing the farmer's markets in Cirencester and also Bath, and we also are available for private events and food festivals in Gloucestershire.
We're just about to launch our first restaurant, which will be called Terra. It's still in Five Valleys Shopping Centre but it's in partnership with Sandersons, so it will be housed within the department store. It'll be a 40-seat restaurant – a big change from our current shop in the food market! – and we will offer traditional Italian dishes but with a touch of Gloucestershire.
Why did you start the business in Gloucestershire?
We live in Cirencester, but we found that there weren't many authentic Italian restaurants in the Cotswolds. There are a couple of Italian restaurants but what makes us unique is that we are Italian ourselves and we use very traditional, authentic recipes – we grew up in the food industry and this is our passion. Expanding into Five Valleys has also been fantastic, as it's a real foodie destination – there are all kinds of different cuisines on offer and we're proud to be part of it.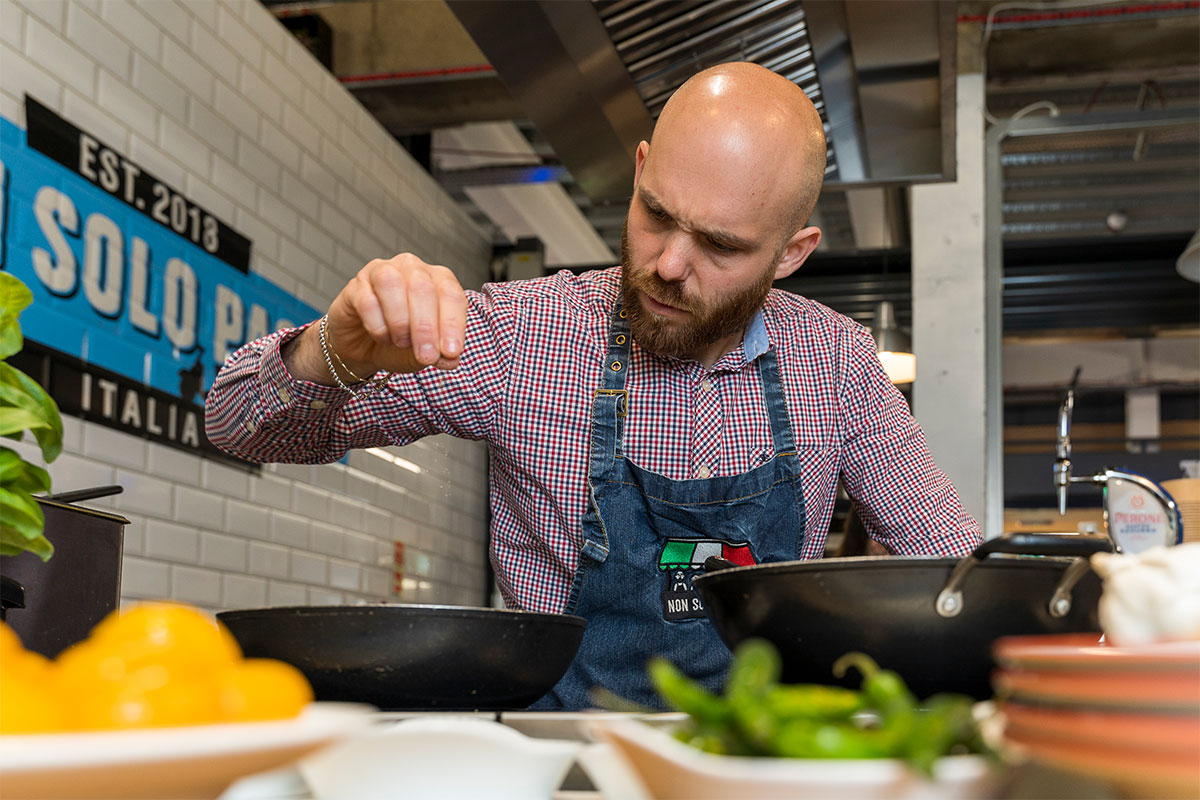 Do you use any local Gloucestershire produce in your products?
We try to shop as local as possible as we think that it's important to use fresh, local produce. All our meat products come from Waghorne's Butchers, who are also in Five Valleys, and all our fish is sourced from Pershore Seafood who are based literally just around the corner from us. When the restaurant launches, we're also looking to collaborate with the Artisan Baker who are located just opposite our current shop, so we're keeping it very close!
How has support from inside the county helped you to grow?
The Growth Hub has been a massive help. We met them in 2018 and since then, we've had plenty of support. Stephen Meyer and Peter Brown have been our mentors and have helped us get different projects off the ground while advising us on how best to grow the business. They've also pushed us towards other local businesses like Hills Design who developed the branding of Non Solo Pasta.
My background is economical but I studied in Italy, so things here are a bit different. With the help of Steven and Peter we were able to better understand what the best move at the time was for us. We were so lucky to have them and to meet them and the support they've given us is just amazing.
How far outside of Gloucestershire do your products go?
While we sell at the farmers' market in Bath, one of the things we're really excited about is that our arancini is now in Gloucester Services, both north and south, and soon our pasta sauce and limoncello will be on the shelves as well – so people from all over the country can pick up our products and take them home on their journey. We've worked so hard to be there and it's a dream come true.
However, we are always looking for more farm shops and other markets in Gloucestershire and looking forward to spreading the word further!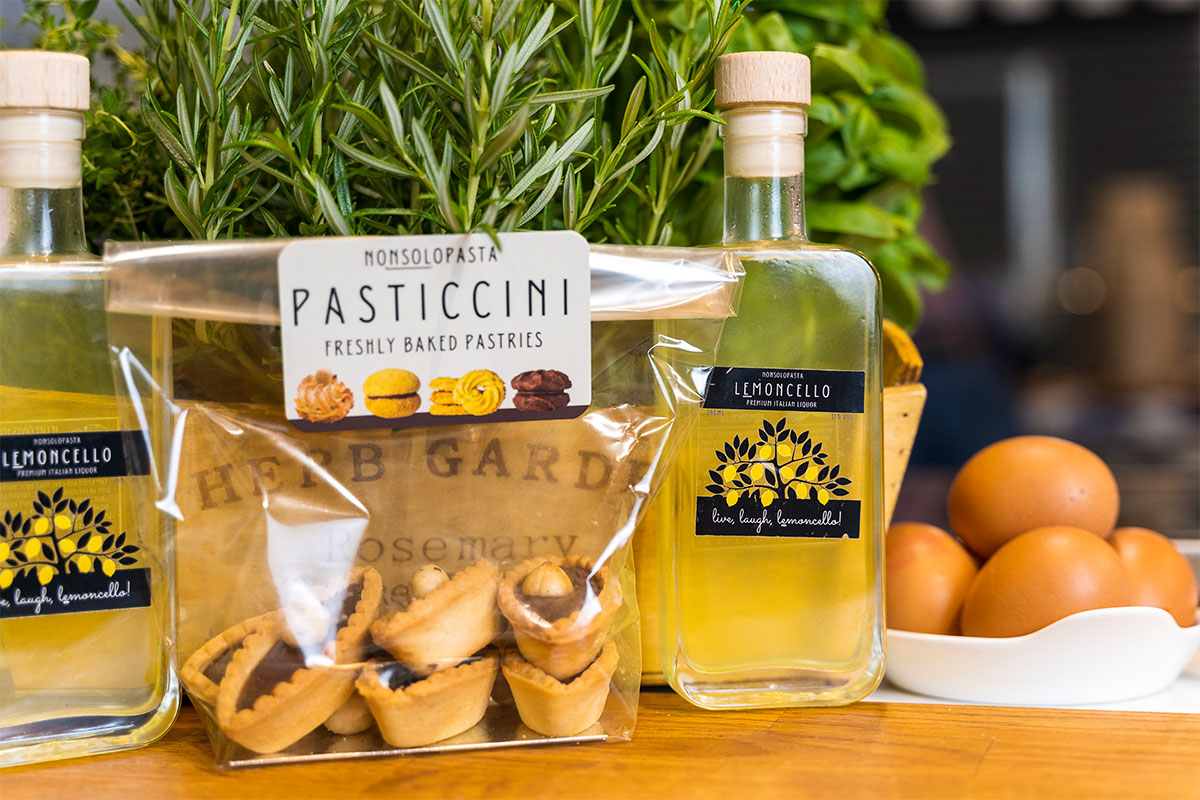 Which of your products would you recommend to first-time buyers?
This is a tricky one but we'd say the arancini. When people come to us, sometimes they say 'ooh, this doesn't look like arancini', but there are two traditional shapes – the round orange shape, and a more 'volcano' shape, which is the form we mould ours in. It's the perfect street food, and we make it in a variety of traditional flavours as well as some inspired by our time here in the Cotswolds, like the beetroot and goat's cheese flavour.
If you wanted to try any of our pastas, we would say our carbonara. We use guanciale from Italy – not bacon, or pancetta – and we don't use any cream. Instead, we use eggs and pecorino cheese like it's supposed to be!
What does Made in Gloucestershire mean to you?
The thing we love about Gloucestershire is the connections we've made with all local businesses. We support each other, we've found that everyone is really keen to work together to reach one main goal. That's really important to us, and all our suppliers, from our butchers to our marketing, are all from Gloucestershire and we love working with them.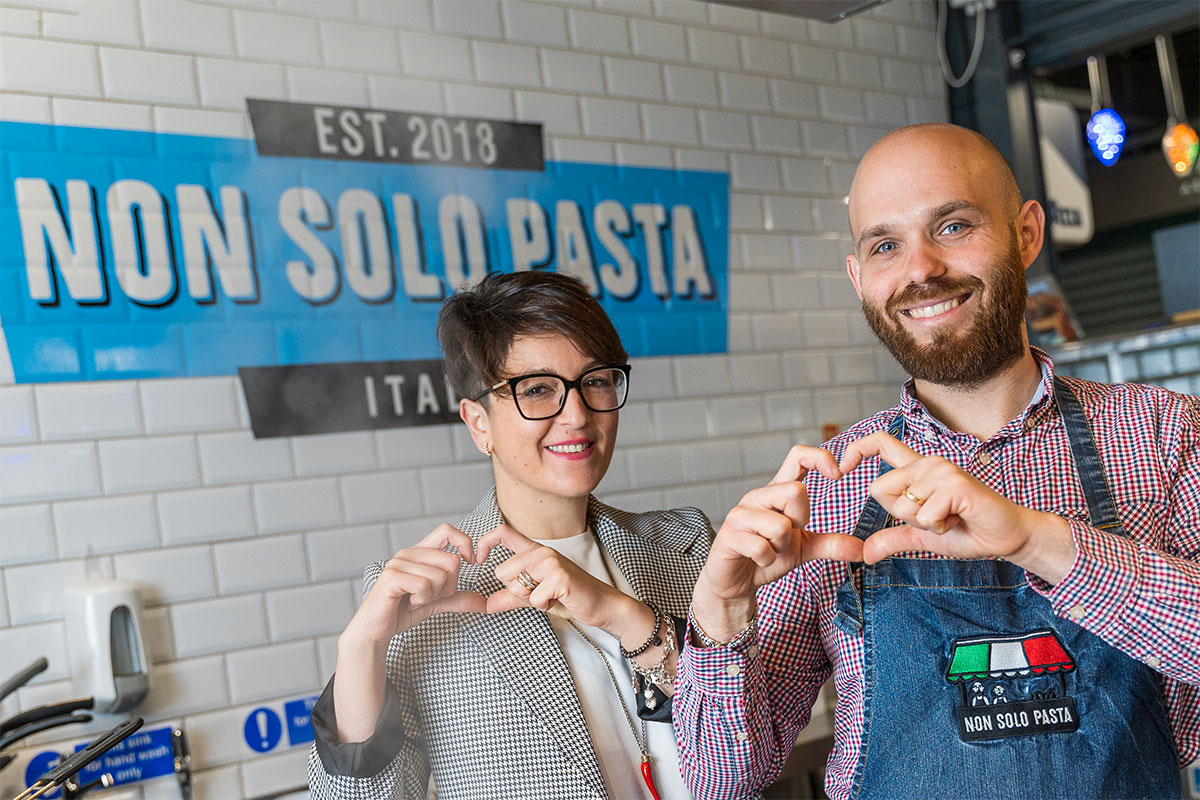 Where can we find you?
You can visit our shop in the Five Valleys Food Market, see us at Cirencester Farmers' Market, purchase our arancini from Gloucester Services, or buy online at https://nonsolopasta.co.uk/shop/
Share this story: