Makers' Spotlight – Stroud Brewery
10 June 2022
Makers Spotlight
Stroud Brewery is one of just a handful of organic breweries in the UK, and is renowned for their approach to responsible farming and brewing delicious, environmentally friendly beers. The brewery is also home to a lively taproom, which has been cemented as one of Stroud's best community hubs in recent years. We spoke to Greg Pilley, the brewery's managing director, to find out more about the passion and pride that goes into making their unique organic beers.
What do you make?
We make beer! And we make all types of beer. We started out producing beer for pubs, largely, then we got our own bar and we started producing keg style beers as well, including a couple of great lagers and we range from very traditional beers to more modern, new-age craft style beers as well.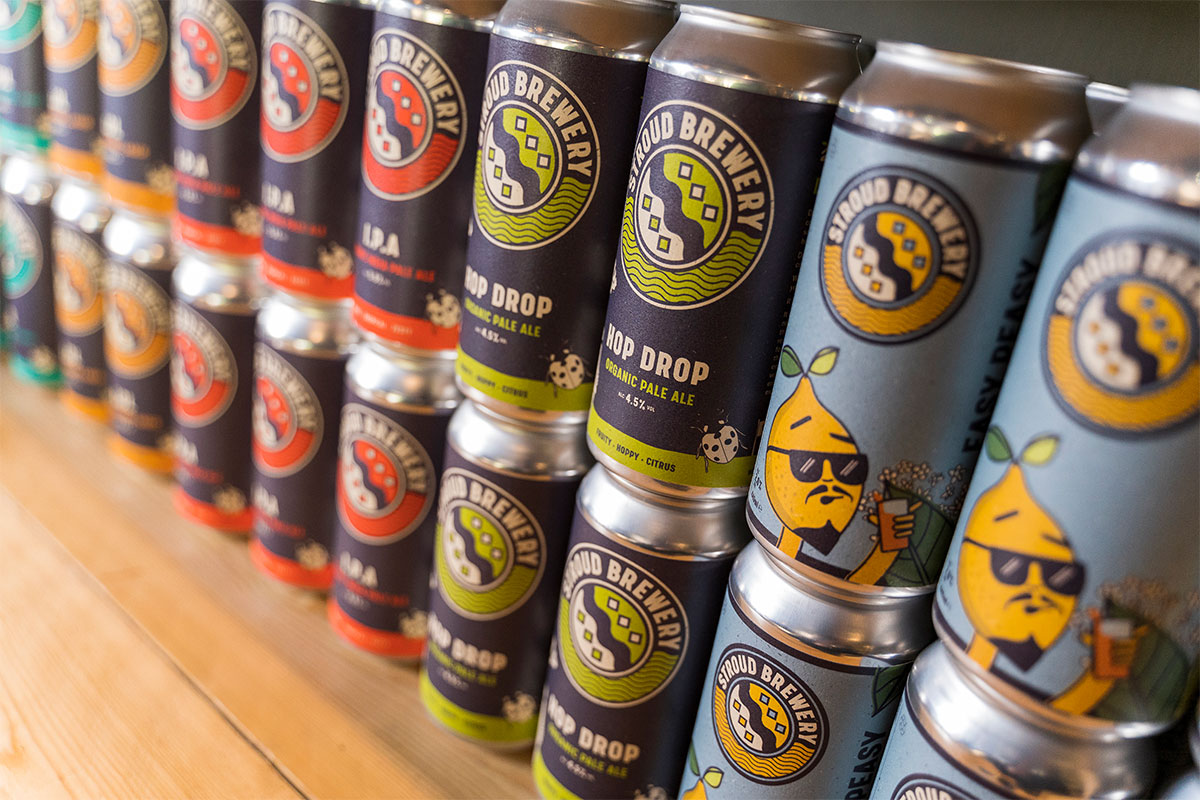 How many different variants do you have going at any one time?
We have our regulars and we also have specials as well in various different formats. On cask, we always have three regular beers which are our Budding, Tom Long and our OPA, our Organic Pale Ale. We often throw in a fourth, seasonal, changing something which usually matches up with whatever we're doing in the cans. So for the cans, we have a regular range and then we try and add in something special which is usually available across all the formats.
What's the difference between an organic beer and a non-organic beer?
My background is actually as an ecologist, and I had worked with the Soil Association in Bristol just before I started the brewery. They are in the business of promoting organic and sustainable food and farming, so when I set up the brewery, I really wanted those values to be at the core of our business. So sourcing locally has always been there, and we're happy to say that anyone drinking a beer from Stroud Brewery is contributing to better biodiversity and good farming practice so improving the landscape and the hills that they're looking at while they enjoy their pints.
As an organic company, we do everything you might expect – we help promote biodiversity, reduce agricultural runoff, but some things you might not know is that in our cans, we're obliged to be free of BPA plastics, which have endocrine mimicking hormones in them. They're banned in Europe, but not in the UK, so if you don't want to drink endocrine mimicking hormones, go drink an organic beer. If you don't want to drink weedkillers and pesticides, drink an organic beer. If you don't want GM products in your beer, drink organic.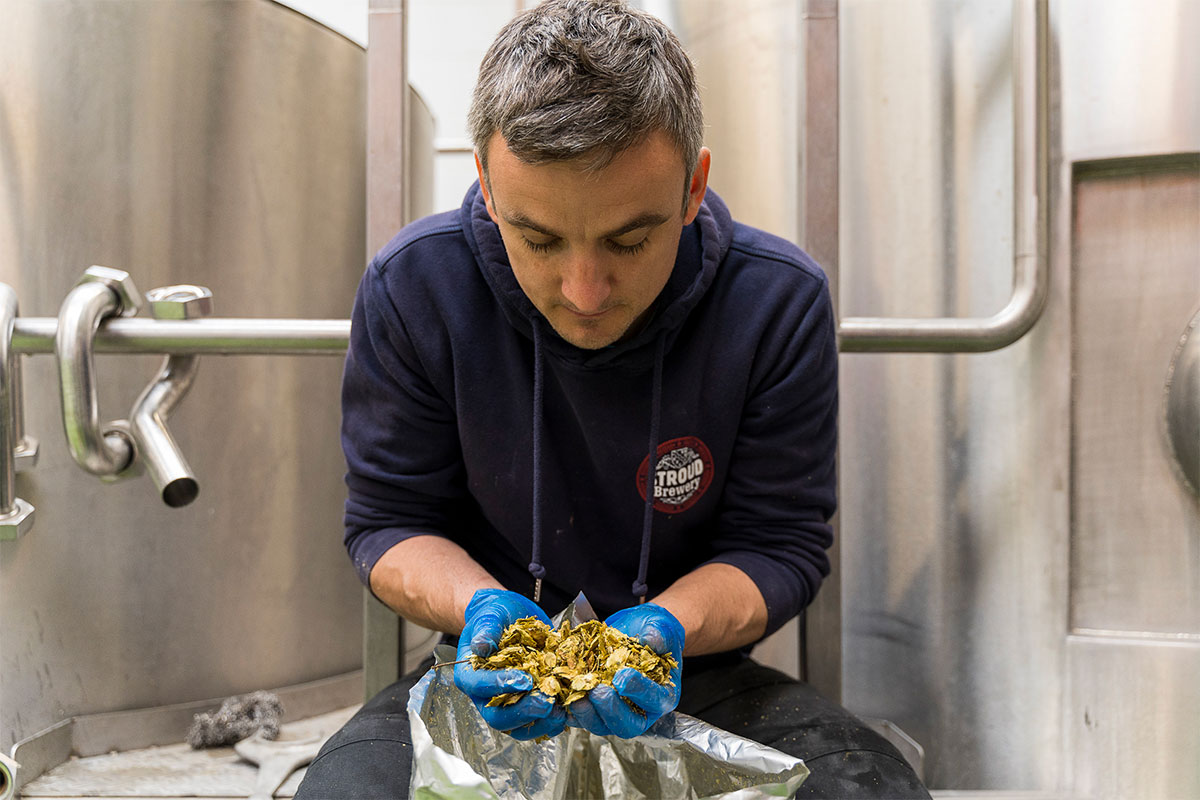 Do you use any local Gloucestershire produce in your products?
A lot of our produce is sourced locally. When talking about the beer, we made a commitment to source local malt and that's enabled by buying our malt through one of the very few traditional maltings left, and that's just over the border in Warminster, Wiltshire. We have an agreement with them that the majority of the malt we receive is from the Cotswolds, so that's within a 50-mile radius of our brewery.
We also have a local and organic sourcing policy for our own bar and kitchen, so things like our salads, we use a local organic wholesaler, we use beef from a local farm and all our milk comes from Minchinhampton Common, we use a microdairy and there's a list on our website – we have a very strong local organic sourcing policy for our bar. If you look in the fridge, even our colas, the tonic, whisky, vodka and so on, they're either organic or they're from the Cotswolds.
What inspired you to start your business in Gloucestershire?
As part of my work with the Soil Association, I was looking to connect people with the farms that made their food and helping to promote community supportive agriculture. I came to Stroud to talk to a group of people who were looking to support a small dairy farm and they actually went and set up a vegetable scheme that's now called Stroud Community Agriculture, and that introduced me to the place. My partner and I moved up to become founding members of that farm project at the time, and it was actually a couple of years later on a volunteer day weeding carrots that a fellow beer enthusiast and I thought it would be a great idea to have a brewery in Stroud. So then I was possessed, and in 2006, we finally set up Stroud Brewery.
There did used to be a brewery of the same name that shut down in the late 60s. I deliberated over a variety of names but there was so much local support to re-establish a brewery in Stroud that we just decided to name it Stroud Brewery – keeping with tradition!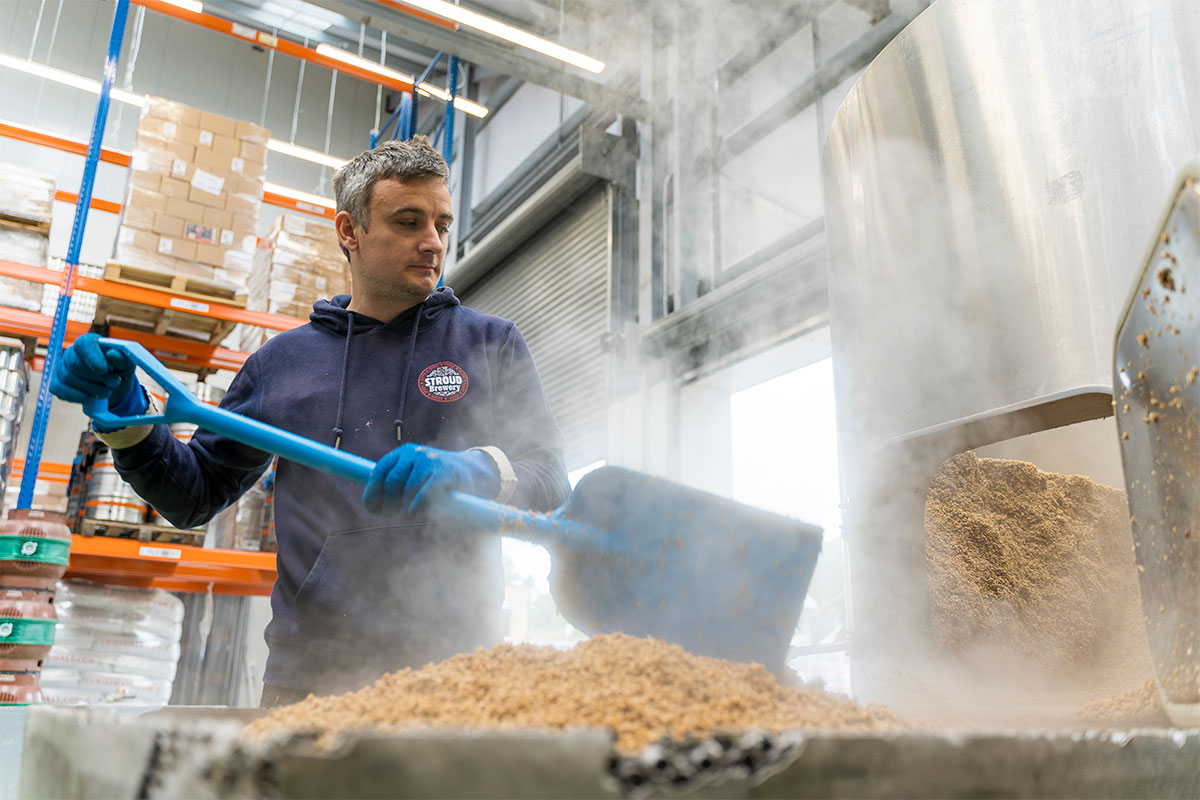 How did the taproom come about?
In 2008–2009, we had our first of the recent recessions and we built up our business around selling to pubs before. So, as a few pubs started closing down, we thought that we'd better diversify the way we sell beers and that's when we got our licence and started selling direct to the public, with bag in boxes and takeaways. We also started bottling and canning our beers – when you do that, you need a lot more space to store.
So we decided to take on a bigger unit next door and that gave us the opportunity to open up a small bar, which was a barrel on a table, originally – there were a couple of guys who came regularly and drank it and that grew over the next few years into a very thriving little bar. Three years later, 10% of all the beer we were making was being sold through our bar and being drank on a Thursday, Friday and Saturday. That made up about 25% of our turnover and 40% of our net profit so a really important part of our business.
We then got kicked out of our unit and went into a panic, wondering what the hell we were going to do. So we had the opportunity to buy a bit of land, just 100 yards away from the old brewery. We got planning and I went into partnership with a local company who are now our landlord and we built a fairly bespoke building by the canal.
How important is the community aspect of the taproom?
We see ourselves as running a community facility – that's what we're all about. It's about bringing people together, having good conversation, having good food and trying to meet the needs of those people whether it's through music, art or workshops. If someone comes to us with an idea, we usually say yes – we've got a venue to use.
So at the moment, we have a variety of events on regularly, like our Brewery Bootcamp, forro dancing, board game nights, a walk and talk night with Ukranian refugees and even a harp playing workshop. That's not to mention concerts and special food nights, so there really is something for everyone!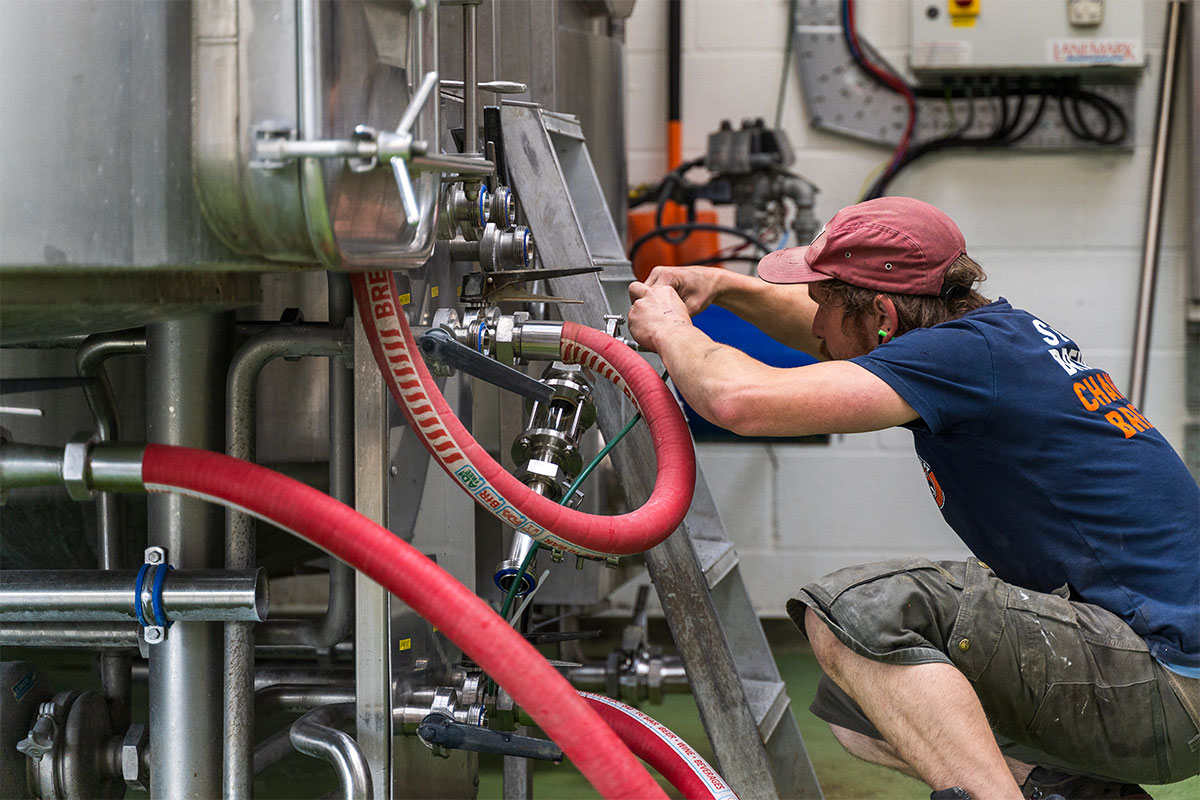 How far outside of Gloucestershire do your products go?
We do sell to pubs across the country but about 75% of our sales are made within a 50-mile radius. Interestingly about 75% of our suppliers are within a 50-mile radius too, so a lot of our business is local. We do use wholesalers – we're a dedicated organic brewery, of which there are only 5 or 6 in the entire UK out of about 2,500 breweries, so we're quite niche in that respect. We supply to whole food natural grocery stores, lots of independent retailers, and we'd sell to wholesalers who deal with fairtrade ethical products and organic drinks. We have products going as far as Scotland – in fact, our first web order was going out to the outer Hebrides – and we have sales to Northern Ireland as well.
In terms of export, we haven't done a huge amount of export but we've sold to Sweden, Norway and the Republic of Ireland. There's also a company in Japan we do a regular delivery to every year. It's actually an international movement – there's a farm in Wiltshire, and it promotes organic and natural agriculture, but their origins and most of their members are in Japan. We supply them with an organic lager that's made with a particular heritage barley, which they're very keen on.
Which of your products would you recommend to first-time buyers?
Well, people are all different and there's a beer for everyone – there isn't just one beer that would suit everyone. First thing I'd ask is do they like light beers or dark beers, then you might say do you like them bitter and hoppy or less bitter.
If I was going to go fairly general, I would say Budding – it's our flagship beer, our longest established and it's designed to be very drinkable. It's not too bitter, it's a mid-strength beer, it's got character – it's quite unique in that way. And certainly for pub drinking, it's a beer you want to drink over and over again.

Do you create any unique products that you'd be hard pressed to find elsewhere?
Well, that's pretty hard to do now – breweries have pretty much done it all! 2019 was probably the best time to be a beer drinker in modern England – we now have 2,500 breweries across the UK, they're all probably producing about 10 different varieties and all of them are clamouring to distinguish themselves in some way so every extreme has been made.
That being said, we've just produced a very light summery beer called Easy Peasy – 2.6%, so it's very low alcohol – it's got elderflower and organic lemons in as well so it's a very floral, aromatic drink.
One of the major difficulties as an organic brewery is sourcing organic hops, especially UK organic hops so we're lucky to work very closely with a few organic growers, and we recently launched a range of River Cottage beers made with these hops. With River Cottage, we make Stinger, which has nettles in it, so that's pretty unique. It's a very light, refreshing, slightly off lager and the nettles bring a slightly citrus zing to the palate.
What does Made in Gloucestershire mean to you?
Well, I've already said most of our customers are within 50 miles of us, and within the heart of that is Gloucestershire. It's who we are – right from the get-go, we've championed Stroud and the characters that have made Stroud, and we see it as a very vital town within the picture that is Gloucestershire.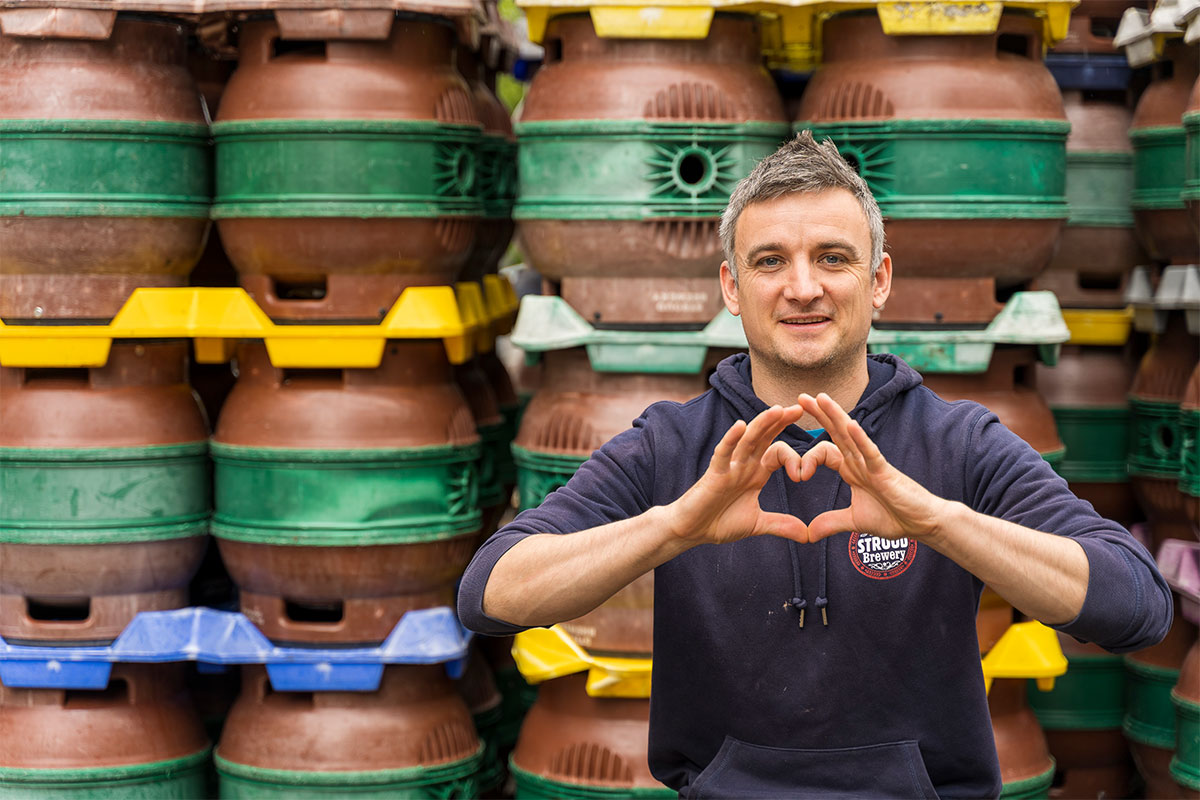 Where can we get a pint?
You can visit us at the taproom, find us in a range of independent retailers like Favourite Beers in Cheltenham, or you can buy online at https://www.stroudbrewery.co.uk/
Share this story: