Makers' Spotlight – Wholly Gelato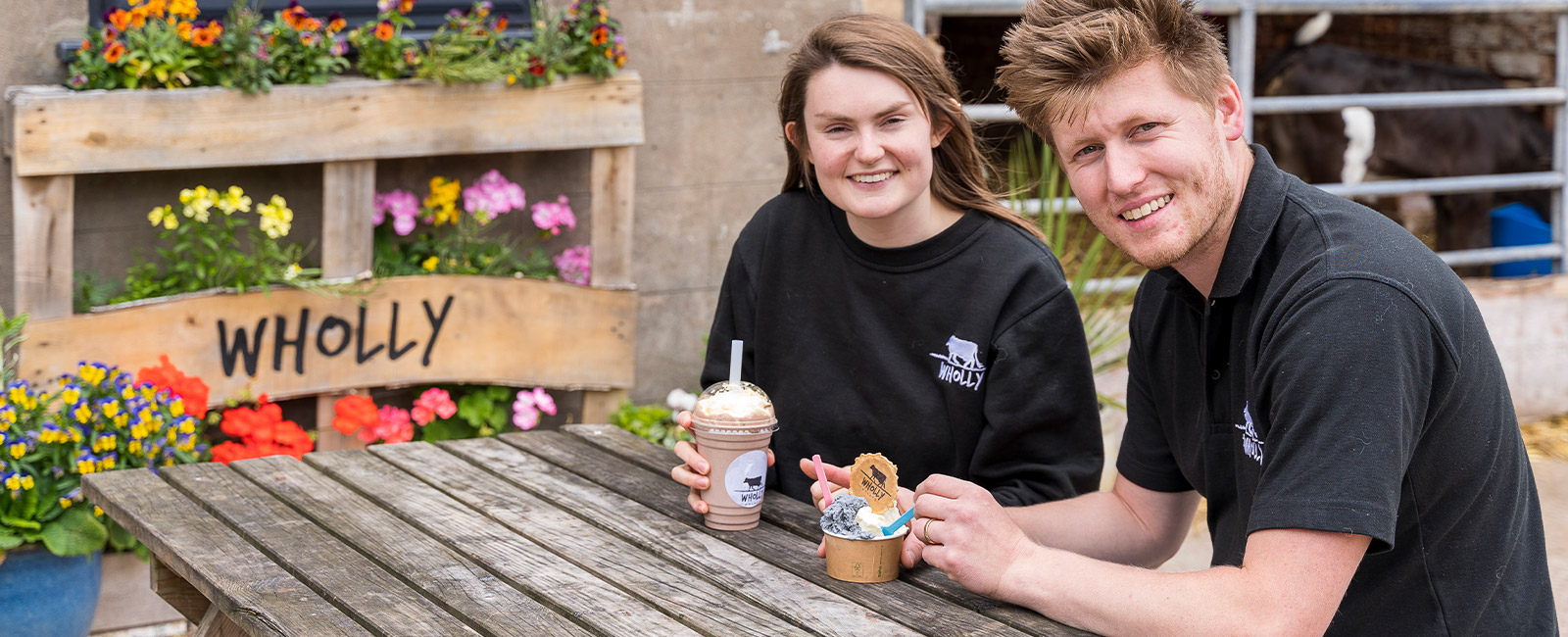 10 June 2022
Makers Spotlight
Wholly Gelato are a family-run ice cream company based at Barhouse Farm in beautiful Elmore, just five miles out of Gloucester. They create tantalising Italian-style gelato, using milk from their own herd of cows! We caught up with Will, the operations manager at Wholly Gelato, to find out more about their unique flavours and how they're truly offering a taste of Gloucestershire in every pint.
What do you make?
We're a working dairy farm, so we produce all our own milk, which you can buy from a vending machine on the farm, but otherwise we make a lot of gelato! The gelato is a 70% milk base, and we've produced over 150 (although it may be closer to 200!) flavours and variations since we first started. We're open every Tuesday to Sunday for gelato, and the vending machine is available every day.
Through the year, we change the flavours every couple of days, so we have three different flavour ranges throughout the week to cater for all tastes – whether you're a fruit fan, a chocolate fiend or just like to keep it simple, there'll be a flavour for you. Our flavours are seasonally based, so we also bring out different flavours for special occasions, like Crème Egg at Easter and a Victoria Sponge for the Platinum Jubilee.
What inspired you to start your business?
We started Wholly Gelato in 2018. It was the brainchild of my wife Emily, who was responding to the dairy industry at the time. A lot of farmers felt the need to diversify to other products, and Emily was heavily inspired by her trips to Italy over the years and her love of ice cream. She did a lot of research, trials, grant applications and then we opened the doors to the public.
How has local support helped you to grow?
We've been involved with The Growth Hub, who have been really helpful, and we were involved in one of the Midcounties Co-Op in one of their competitions, which we won. As a small business, we're really grateful for any support that's available to us. We're always learning as we go, so it's been helpful to have input from people who have lived and breathed the industry for a number of years and know what challenges we face.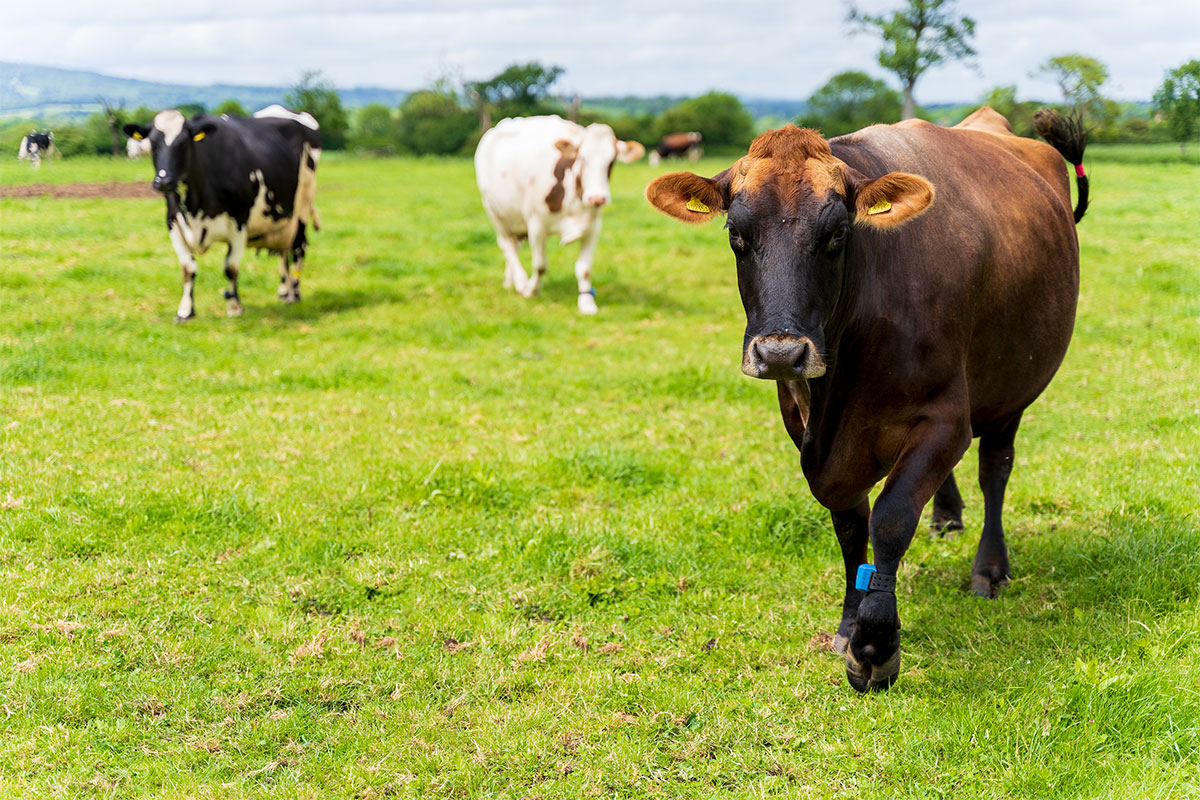 Do you use any local Gloucestershire produce in your ice cream?
All the milk is produced here at source and then a couple of steps away, we make the gelato. It's a family run herd – my in-laws and their family have been running it for over 50 years and have been rearing the herd over a number of generations. There's about 160 cows in the herd, and it's a mixed breed, which is nice – there's a lot of brown Swiss, there's Freesians as well, so it's not like your stereotypical black-and-white herd of cows.
We get all of our fresh seasonal fruit from Elmore Fruit Farm just a mile down the road, and we also work with a number of fantastic businesses in Gloucestershire, like Hetty's Brownies – we use their brownies as a topper, instead of a flake! We've launched collaborations with Salt Bakehouse and Boutique Distillery as well. That's what we're all about – small businesses helping out other small businesses.
How far out of Gloucestershire does your ice cream travel?
Not very far! We feel that the quality of our gelato is maintained by our small batch process – the temptation to capitalise on growth is there, but we don't want to compromise the quality, so we'd rather work with local businesses.
We supply to a range of farm shops and restaurants around the county, and we're speaking to a number of businesses in the Cotswolds at the moment, but we believe in making the most of where we are. In fact, we'll be part of the Gloucester Food Dock, which is opening later this year – we've got some really unique desserts coming to the Food Dock alongside our usual gelato offering, so we're looking forward to seeing how customers respond to that.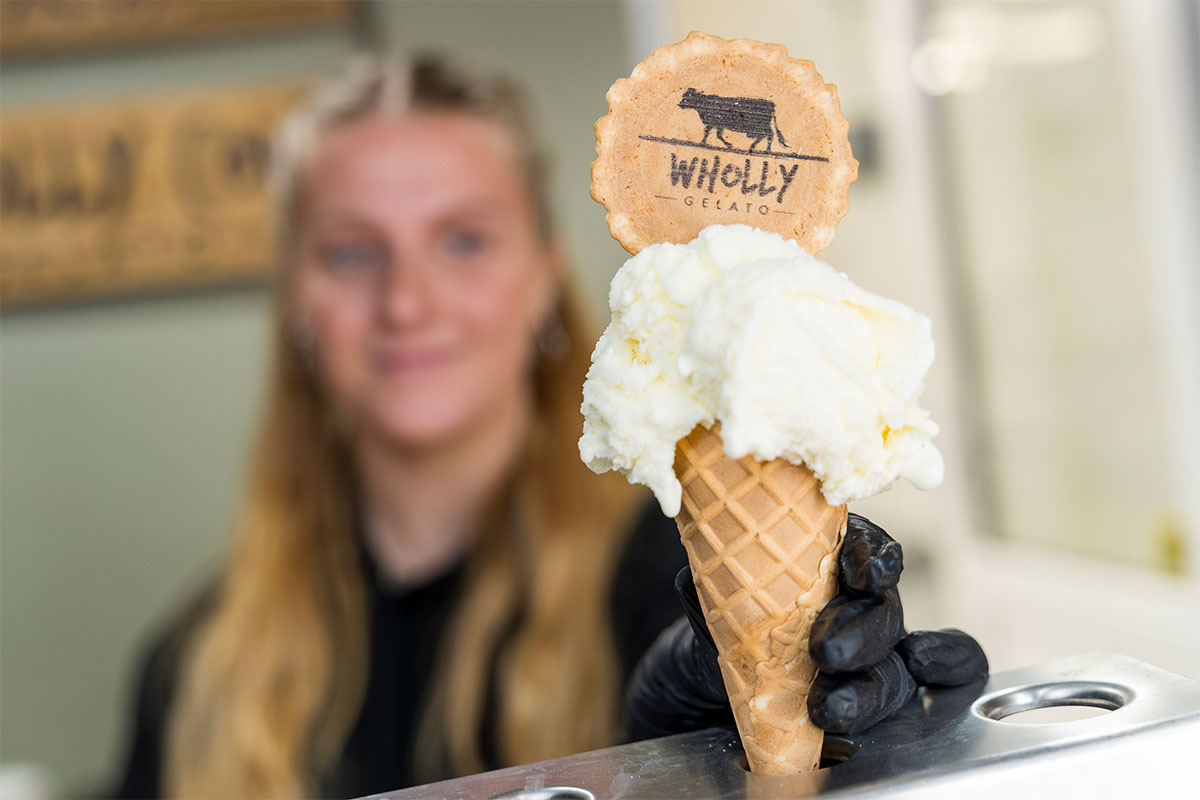 Which ice cream would you recommend to first-time buyers?
For us, we're really proud of the plain Wholly Milk – it's an award winning flavour, we won a Great British Food award for it, and it's so pure, clean tasting. People liken it to vanilla but it's better than vanilla because it's just a pure milk flavour. We'd always recommend that because it's part of our story.
Beyond that, I'd say any of the fruit flavours we have. Salted caramel and Biscoff are always really popular, too. We also do quirky flavours like liquorice and chocolate Marmite, which people either love or hate, so those are worth a try if you fancy something a bit different!
What does Made in Gloucestershire mean to you?
We're all about local, sustainable food. We're made in Gloucestershire and sold in Gloucestershire, so we're keeping those food miles down and supporting local businesses. We're born and bred in Gloucestershire, and we're all proud to be from here, so to say we're Made in Gloucestershire, that's really a big part of our story.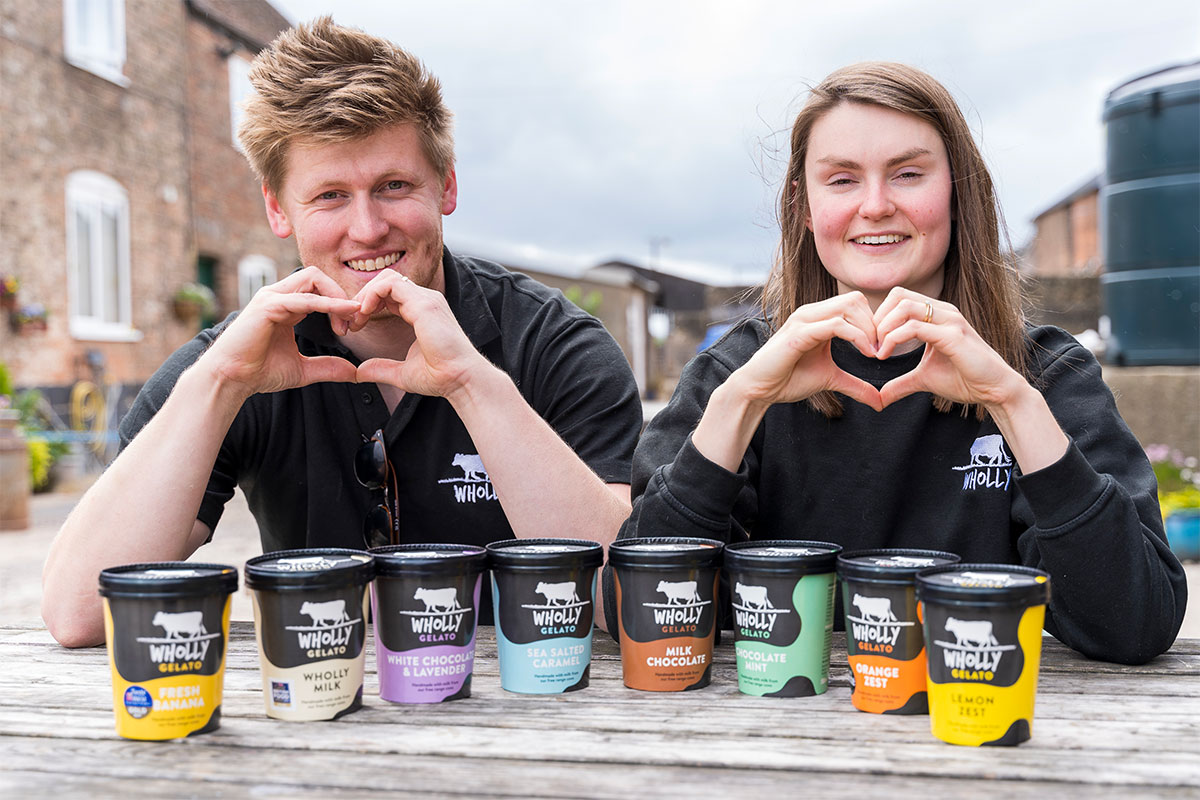 How can people find you?
We're based about five miles from Gloucester city centre, between Quedgley and Hardwicke. You can visit us from Tuesday to Sunday for gelato, and every day for milk. As well as picking up a cone, you can see a bit of farming practice taking place too, so feel free come and say hello to the cows. If you want to find out a bit more about us, visit our website at https://www.whollygelato.co.uk/
Share this story: