Royal Three Counties Show 2023 Launch event at Adam Henson's Cotswold Farm Park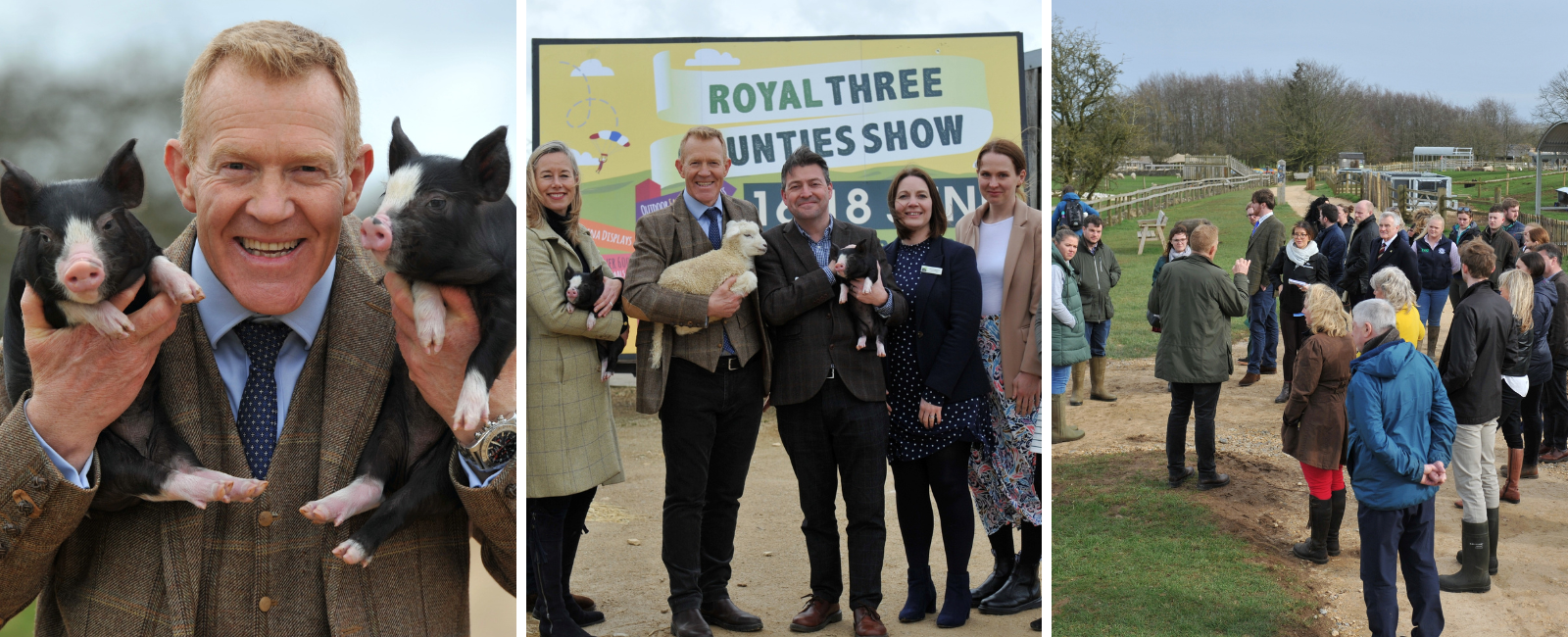 Made in Gloucestershire were invited to attend the launch of the Three Counties Show 2023.
Well-known TV presenter and Cotswold farming royalty Adam Henson, threw open the 'barn doors' to his popular Cotswold Farm Park this week, to celebrate the county of Gloucestershire being named as the host for this year's Royal Three Counties Show.
Hailed as one of the UK's biggest celebrations of the Great British countryside, the Royal Three Counties Show offers three days of food, farming and family fun from 16 – 18 June 2023 at Three Counties Showground in Malvern.
The event boasts over 6,000 animals across 35 showing rings, the UK's largest collection of rare breeds and an array of livestock and national breed shows crowning cattle, sheep, goats and pigs across 900 classes. So, the Farm Park was the perfect location for the host county event, with representatives from the area's farming, countryside and food sectors on hand to celebrate all that is great about Gloucestershire.
Each year one of the three counties takes the host role and it moves between Worcestershire, Herefordshire and Gloucestershire. To mark the occasion a new Future of Farming Zone is being launched at the show, with a line-up of informative talks, Q&A sessions, networking opportunities and insights into the evolution of the agricultural industry, that feature the latest cutting-edge technology in food and farming.
Other special guests confirmed for the weekend include award-winning food writer, Mark Diacono, hosting the Food & Drink Theatre; Suki Pantal, aka Suki's Curries and Spices, sharing 'the real taste of India'; and rising social media star and Weir End Farmer, Ally Hunter-Blair and of course long standing show ambassador, Adam Henson.
Alice Arnold, Royal Three Counties Show Lead, commented: "We are delighted to be celebrating Gloucestershire as the 2023 Royal Three Counties Show host county. This years will be one of the region's biggest and best events, introducing a brand new Cheese & Dairy Show, 51 Horse of the Year qualifiers, Royal Parade a prestigious new luxury retail area and so much more."
What's new at Royal Three Counties Show in 2023?
New high-energy entertainment in the Main Arena (including the Prince Philip Cup Pony Club Mounted Games, a Quad Bike Stunt Display (Friday) and under 18s Motorcycle Display Team – the Imps (Saturday and Sunday).
The Stable Yard – take part in interactive and informative workshops and demonstrations delivered by organisations and experts from the equestrian industry and find out how to get involved in equestrian care or sports.
The Royal Parade - an exclusive, premium shopping experience from some of the finest, luxury countrywear retailers and sporting suppliers, complete with champagne bar.
Cheese & Dairy Show - sample some of the finest artisan produce from across the three counties and beyond, buy award-winning products, meet the dedicated makers and take part in interactive talks and demonstrations.
Food & Drink Theatre - a new line-up of special guest chefs will provide mouth-watering demonstrations and showcasing outstanding local produce.
Future of Farming Area - networking opportunities and promotion of discussion around career opportunities and the latest policies and issues affecting the industry, plus a showcase of the very latest cutting-edge technology.
Future of Farming Theatre - informative talks and Q&A sessions on these topics with leading experts in the agricultural sector.
Farming Experience Area - a space where visitors can get closer to farm animals, find out more about the fascinating processes involved in food and wool production and ask farmers questions about everyday working life in the sector.
Buy tickets
To find out more and to buy tickets to Royal Three Counties Show, costing just £23 in advance and children under 16 are free of charge, visit www.royalthreecounties.co.uk or call 01684 584 924.
Calling all Gloucestershire Food and Drink producers!
Food and drink producers based in Gloucestershire can book a 3x3m marquee stand at the show for a discounted cost of £287 for the 3 days - less than £100 a day. Read more and register your place here: www.threecounties.co.uk/trade
[Image credit: Thee Counties Showground]
Share this story: