The Beefy Boys officially open restaurant in Cheltenham after double award win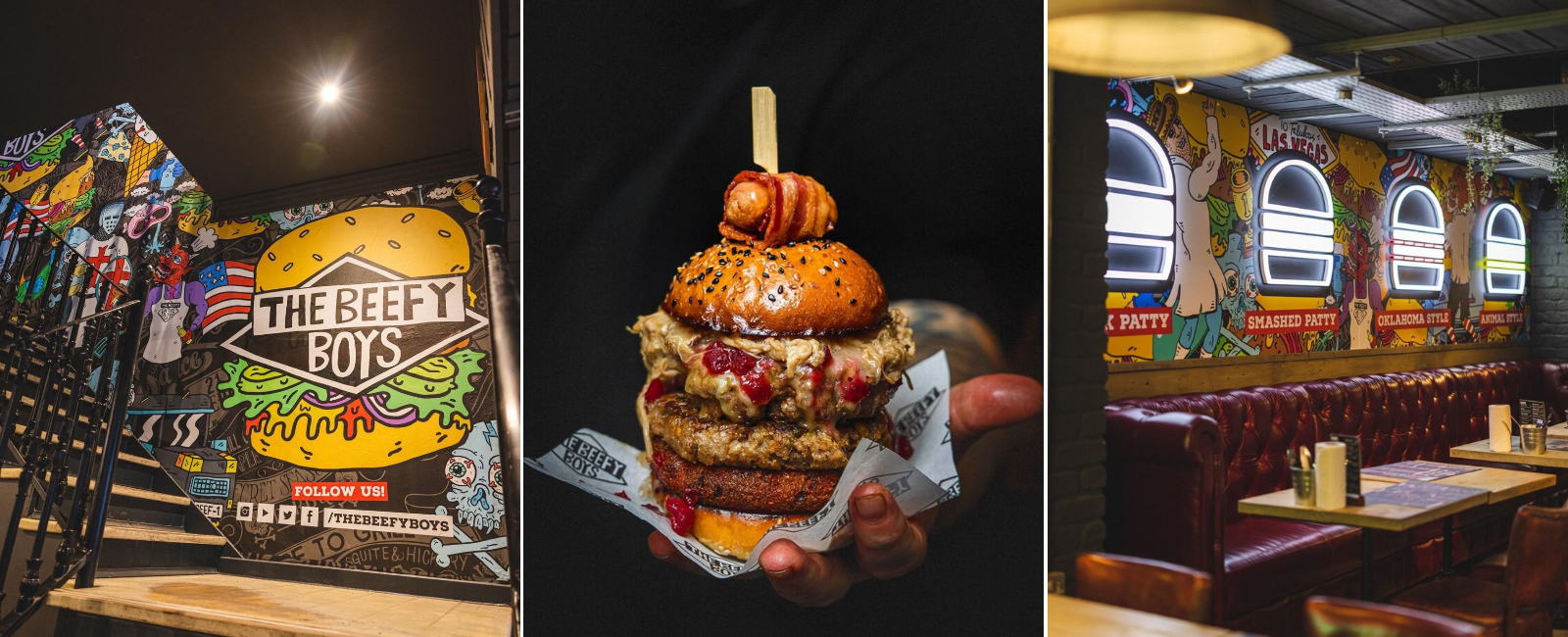 Cult burger brand, The Beefy Boys, officially opened their brand-new Cheltenham restaurant on Saturday 25th February following a successful launch party attended by local food enthusiasts, businesses and industry insiders.
The new restaurant is located on Regent Street in the heart of the town and features a spacious dining area across two floors, decorated with their signature burger artwork, neon designs and social seating booths.
Born out of a back-garden barbecue in 2011 between four childhood friends (Anthony Murphy, Daniel Mayo-Evans, Christian Williams and Lee Symonds), burger business The Beefy Boys has become a true success story after establishing itself as a firm-favourite with food fans. The business specialises in burgers, loaded fries and sides and prides itself on using only the best local produce, particularly the 100% Herefordshire beef that makes up each of their burger patties.
And opening their third restaurant was not the only thing to be commemorated by The Beefy Boys this weekend, as they also celebrated winning two much-coveted accolades at the National Burger Awards last week.
Phenomenally, The Beefy Boys won the headline award for 'National Burger of the Year' with their signature submission named 'The Old Boy'- featuring Herefordshire beef, the restaurants' secret spice mix, sliced onions, melted cheese and a potato bun. A variation of this winning recipe, called the 'Animal Style Oklahoma Boy' can be found on the brand-new Cheltenham menu.
In addition to this, Anthony 'Murf' Murphy, one of the four founding Beefy Boys, had extra reason to celebrate after his technical expertise at the contest saw him crowned 'National Burger Chef of the Year'. Murf impressed the panel of highly-respected industry judges with his unrivalled burger-flipping skills, beating 15 other talented entrants along the way.
The double win at the contest means that The Beefy Boys have claimed two of the possible five awards up for grabs, coming out head and shoulders above their contenders.
The awards recognise The Beefy Boys' commitment to only using the highest quality ingredients in their dedication to creating the perfect dirty burgers. Famously, the restaurant credit their great taste to their use of 100% dry-aged grass-fed Herefordshire beef, a nod to their humble beginnings, with all four founding Beefy Boys having met and grown up in Hereford, where they opened their first restaurant in 2016. Alongside their signature award-winning burgers, Cheltenham visitors will also find a selection of chicken wings, delicious sides, veggie options, cocktails and hardshakes – alcoholic milkshakes – on the new menu.
'We are so excited that our Cheltenham restaurant is now officially open and that we can now bring our award-winning burgers to this vibrant and food-loving town' said Anthony 'Murf' Murphy, co-founder of The Beefy Boys. 'We have had such a phenomenal reaction and support from everybody since our victory at the National Burger Awards last week so we can't wait to show the people of Cheltenham what all of the hype is about'
The Beefy Boys are now accepting walk-in customer to the restaurant which is open daily from 12pm – 9:30pm (8pm Sundays), although pre-booking is strongly advised during peak service times. The restaurant will also provide a takeaway service where possible, and locals will be delighted to hear that they plan to expand their offering to Deliveroo in the near future.
To book a table at The Beefy Boys and experience the award-winning food for yourself head to their website here -https://thebeefyboys.com.
[Image credit: https://www.peterlowbridge.com/]
Share this story: