Winners announced at Gloucestershire Foodie awards 2023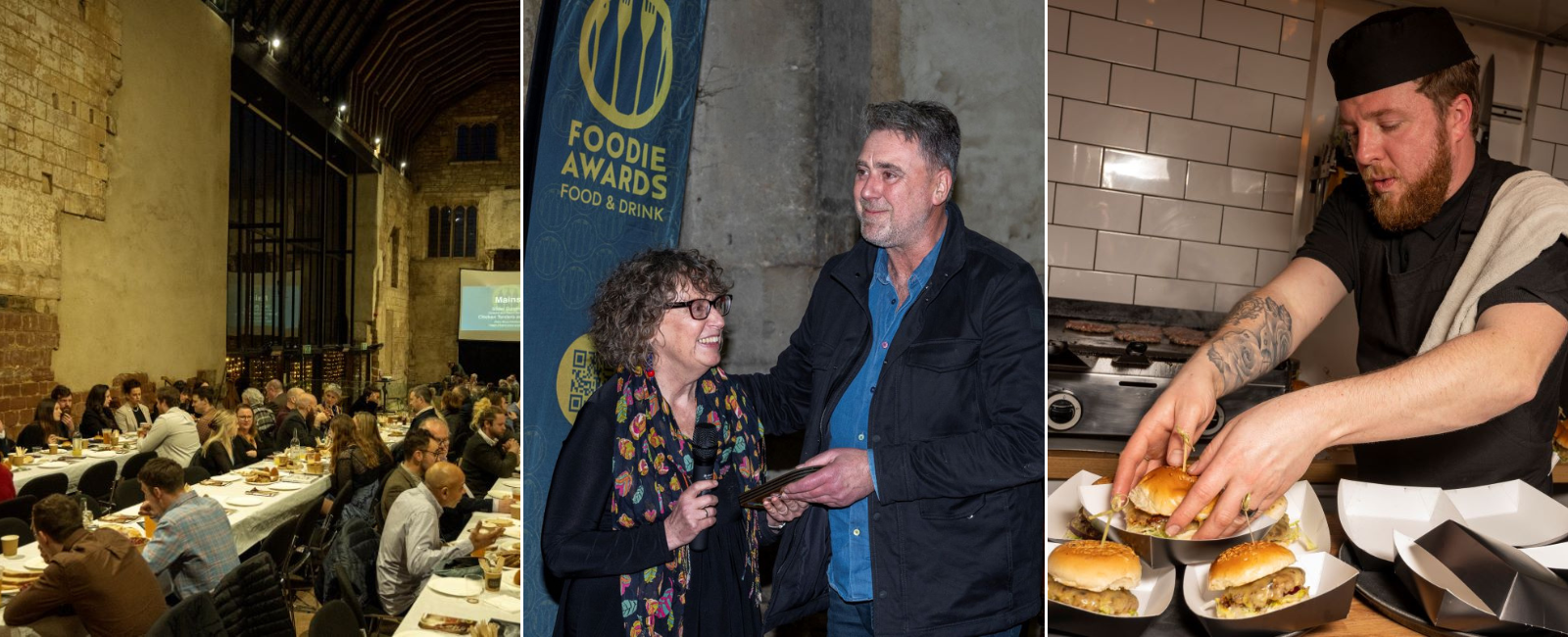 The first Gloucestershire Foodie Awards winners were announced at the awards evening at Blackfriars Priory in Gloucester on 29th March 2023.
Finalists and guests were treated to a drink reception followed by food made by The Dirty Boys Kitchen, Salt Bakehouse, The Ground and Round Burger, and Non-Solo, all guests seated at long tables.
Representatives from the Made in Gloucestershire team were excited to attend, network with current members, meet potential new ones, and most importantly, hand out the awards to the well deserved winners of the Made in Gloucestershire categories.
And the winners for 2023 are...
Made in Glos - Food - Kitchen Garden Foods
Made in Glos Drink - alc - Woodchester Valley Vineyard
Made in Glos Drink - Non-Alc - Eastington Farm Shop
Huge congratulations from us here at Made in Gloucestershire, and a round of applause to all nominees and finalists.
The full list of winners for 2023 winners is as follows: -
Cafe/Coffee shop - The Hideout Café
Casual Chef - Yves Ogrodzki - L'Artisan
The Food Hero special award went to Carl Benton for his Inspired Cookbook supporting Stroud Women's Refuge and presented by Andrea Rigby from the refuge. All profits from the sale of the book head to this refuge, the only one in Gloucestershire. The book aims to make a positive impact on someone's life.
Jonathan Smith, Founder of #GlosFoodieAwards comments, "What an evening. Thank you to all the finalists, and congratulations to all the winners – it demonstrates the quality and dedication of what Gloucestershire produces – incredible food, drinks, and innovation all on show. Thank you to our supporters and sponsors of Visit Gloucestershire, Mudwalls, Made in Gloucestershire, and Gloucestershire College."
The Glos Foodie Awards was held in support of The Long Table CIC initiative based in Stroud. A raffle on the evening raised further funds.
The 2024 Gloucestershire Foodie awards will open for applications later this year. Please visit https://www.gloucestershirefoodieawards.co.uk/ to keep up to date.
Share this story: